ADMISSION TO WESTMEAD PRIVATE HOSPITAL
CALL (02) 8837 9000 if you have any questions regarding your admission to Westmead Private Hospital.
• 
Westmead Private Hospital will inform patient admission time & confirm fasting instruction between

3:30pm – 7pm 1 working day before procedure date.

If your procedure is on a Monday, you will be informed on a Friday before your procedure.
• 
If you have not heard from hospital between above time, please call Westmead Private Hospital (02) 8837 9000 for admission time.
• 
If you require an escort to drop off on day of procedure, please arrange an escort in advanced to avoid being late for admission and surgery.
FASTING INSTRUCTION FOR COLONOSCOPY AND SOME COLORECTAL PROCEDURES
• 
Colonoscopy procedure and some colorectal (bowel) surgeries require "PICOPREP bowel preparation". Patient will be given a bowel preparation instruction sheet on day of your appointment with doctor. 
• 
You are required to take a day off to do bowel preparation. Bowel preparation should start on the day before procedure.
• 
Importance of good bowel  preparation: 
Cleansing  the  colon  (also  called: bowel preparation) properly allows the doctor to clearly see the lining of the bowel thoroughly and examine the colon. If the bowel is not completely clean and empty the procedure may need to be postponed or repeated. Potential complications may also occur or potential cancer lesions could be missed.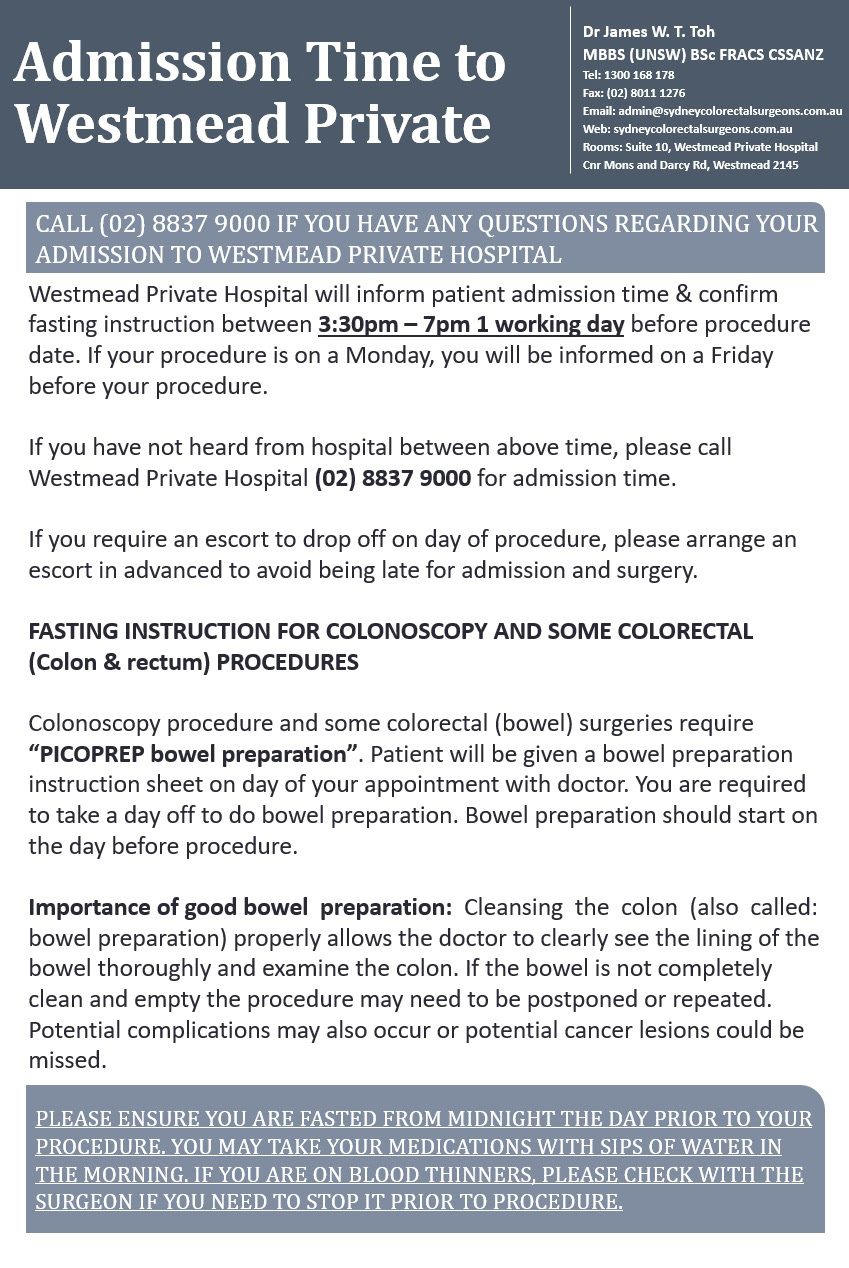 GENERAL POST-OP INSTRUCTIONS
ACTIVITY AND HEAVY LIFTING
• 
There are no restrictions on walking. Avoid contact sports, gym, body-building and swimming for 4 weeks. Some operations will have longer restrictions.
• 
No heavy lifting (> 5kg) for 4 weeks. Some procedures may have longer restrictions.
• 
There are no restrictions for showering but bathing is not recommended. Dressings should be kept intact for at least 5 days. If becomes wet, dry the wound and replace the dressing.
• 
No driving for 2 weeks post discharge and avoid driving while on strong pain-killers including but not limited to endone, oxycontin, tramadol, targin and panadeine forte.
• 
You will be given a medical certificate for 2 weeks off work and 4 weeks of light duties only. Some operations require longer duration off work, and minor surgery may require less time off work. For colonoscopies, patients generally will need the day prior to the colonoscopy off work to bowel prep and the day of the procedure.
• 
A soft, easy to digest diet is recommended for the first 2 weeks, then may resume a normal diet. Patients are encouraged to drink plenty of fluids and eat a healthy well-balanced diet.
• 
Medications commonly prescribed include antibiotics, aperients and analgesia. Pain killers may cause constipation so it is important to drink lots of fluid and have a high fibre diet. Patients may take movicol or lactulose if constipated post-operatively.
• 
Fever, pain, nausea/vomiting, wound infection or breakdown, unable to open bowels and any concerns.
This material is general information only and should not replace medical advice or instructions given by the health professional. No action or inaction should be taken based solely on the contents provided on this information fact sheet.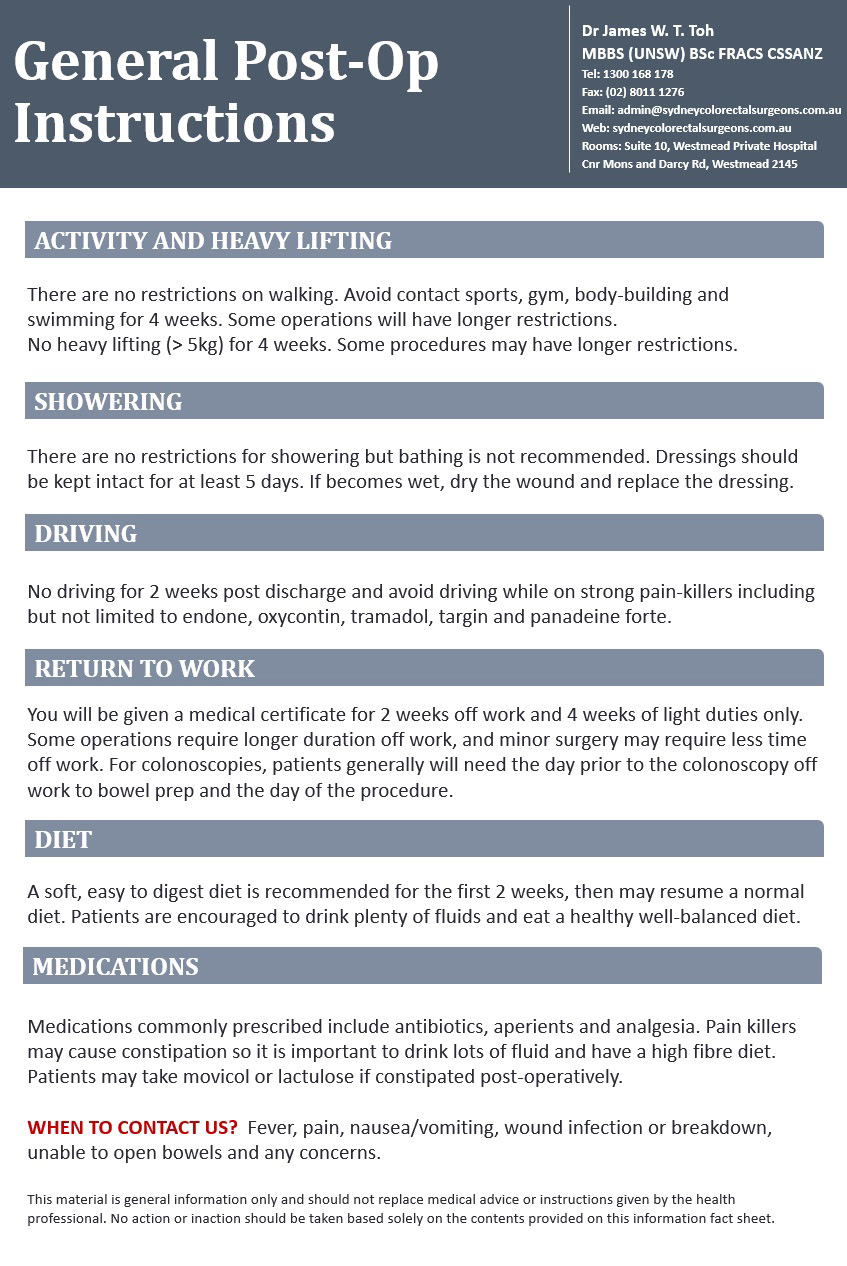 Cancellation Policy/No Show Policy
For Doctor Appointments and Surgery
1.     Cancellation policy/No Show Policy for Doctor Appointment
· We understand that there are times when you must miss an appointment due to emergencies or obligations for work or family. However, when you do not call to cancel an appointment, you may be preventing another patient from getting much needed treatment. Conversely, the situation may arise where another patient fails to cancel and we are unable to schedule you for a visit, due to seemingly "full" appointment book.
· If an appointment is not cancelled at least 24 hours in advance you will be charges a fifty dollars ($50.00) fee. This fee will not be covered by your insurance company or Medicare.
2. Scheduled Appointments
· We understand that delays can happen however we must try to keep the other patients on time.
· If a patient is 15 minutes past their scheduled time we will have to reschedule the appointment if we don't have available time to accommodate your late appointment on that day.
3. Cancellation/No Show Policy for Surgery and Procedures
· Due to the large block of time needed for surgery, the last minute cancellations can cause problems and added expenses for the office. Also your last minute cancellation may be preventing other patients from getting much earlier treatments.
· If surgery is not cancelled at least 7 days in advance, you will be charged a fee of at least two hundred and fifty dollars ($250.00) or more depending on the nature of your surgery. This fee will not be covered by your insurance company or Medicare.
We will require that patients with self pay balances do pay their account balances to zero (0) prior to receiving further services by our practice. Patient who have questions about their bills or who would like to discuss a payment plan option may call and ask to speak to a business office representative with whom they can review their account and concerns. Your information and records may be used for billing purposes, including bad debt management.